Centrally located in the Victorian goldfields, the little town of Maldon is a snapshot of Australiana over a century past.
Fairbank House delivers that authentic experience in perfect style for up to six guests.
Sign up to our Newsletter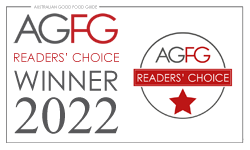 Accommodation
Positioned with views yet near the centre of town, Fairbank is a 19th century Victorian in a beautiful garden setting. Inside, there are three quality bedrooms: a superking room, or two king singles; and two queen bedrooms. All have dedicated bathing facilities: two full bathrooms (including the master's new Carrara marble suite) and the superking has an accessible wet room. There's ducted climate control or gas heating for extra comfort, and an open fire for socialising. The latest entertainment technology and wifi are there to keep the youngsters happy. The house has superior furnishings and fittings and is meticulously maintained; it is wheelchair-friendly.
The 1860s dining room sits 8 - 10 people and is served by the fully equipped kitchen with pantry supplies. Outdoors, there's choice for barbecuing and relaxing in the entertainers' garden.
Combined with plenty of things for everyone to do in Maldon, indeed within a half-hour in most directions, the idyllic break away for families and their friends is complete.
We are also wheelchair friendly: https://www.youtube.com/watch?v=Z0EvdNgW71U
Click on photos below for more information.